Philippines Travel Journal
The Philippines is an amazing archipelago comprising 7,107 islands, home to the Thrilla in Manila and jam packed with party hungry Hotties. A gem to say the least… Feels a little cowboy at first, but turns out that is definitely part of the charm. In fact, a rain of impressions will take you in a storm. If you haven't yet seen a whole family riding on a scooter, here you can. The streets of Manila are busy, at times manic, but in all this chaos you should already feel adventure luring around every corner. The contrast between high-end society and the poor takes a little getting used to, but it is strangely engaging at the same time. So, if you can't stomach the odd slum yard popping up around the corner or see roosters in cages braising in the sun (possibly getting them insanely prepared for a cock fight), then don't make Manila your destination – even though it's pretty much a sure thing that this is common all over the place.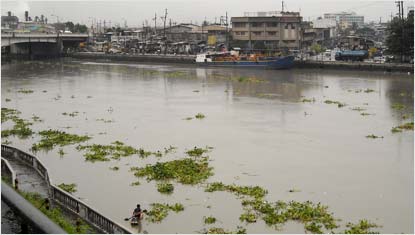 Don't let this put you off. A true Yellow Fever manic will even love this. Got to give credit to the dude in the canoe.
The girls and the nightlife
of the Philippines
The girls in the Philippines are an intriguing mix of typical South East Asian looks with the occasional pinch of Mediterranean. Fiery Latina look-alikes in the Philies? Well, we'd assume it's linked to the fact that the Spaniards have set mark back in 1521 (feeling like a history lesson? The name Philippines is derived from that of King Philip II of Spain). This also resulted in the country having become heavily catholic and it's not hard to oversee. As an example, Jeepney's, an American reminiscent from World War II are occasionally plastered with 'religious merchandise'.
The last to expect from this though is a bunch of frigid girls. They do know their parties and as you might imagine are pretty open minded, yet modest and talking from experience, heavily flirtatious. It doesn't take more than a walk through one of those numerous Super-Kick-Ass-Malls to catch some girls eyes, be acknowledged with a 'Hello Sir' and a bright smile. Admittedly, you never exactly know, if they're just being kind, excited or going to offer you a massage. Either way it's great stuff we'd say. Now, don't misconceive that with references to the typical Thai experience. Speaking the obvious, both are different countries and different people for sure.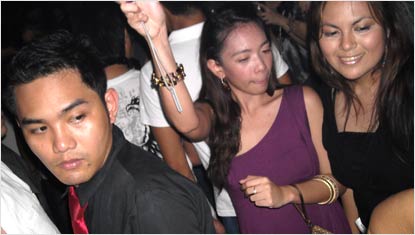 Friendly, modest and flirtatious. Maybe not the stereotype Filipina, but that's what it felt like.
Nightlife is pretty much a 24/7 occurrence too. You may find yourself in a live music pub with a very local flair, packed out with people who just want to have a smashing time. The area around the Green Belt is a great place to start. It is as much a shopping centre complex, as it has restaurants and bars, some of them a little more raunchy such as the Café Havana to get that Asian Yellow Fever to boiling point.
Later that night you can always track down some high-end club close to Mall of Asia such as LAX. Manila simply delivers – a city of mind boggling proportions and some real heavy party pockets. Depending on the location, drinks are so cheap that you won't remember much of any night if you're not careful. Of course, we want to advise you to watch it a little.
Lax nightclub. Not your average night. Careful Asiaphiles, this hurts…
Manila is by far not the worst, but certainly isn't the safest place on earth either. Then again, our yellowfeverhots.com 'correspondent' Frank W. didn't experience any trouble. Funny enough, Manila seems to be one of those places, where you can still get yourself out of a dilemma in pretty good fashion. More on that you find in our Dirty Yellow section. Anyways, at least have an idea where you're going. Legging it across a city like Manila or taking a speeding killer Bus into the unknown may be a thing of adventurism.
Another way of having a great time in the making is: Create some friends. If you're not a sociable disaster, this will almost happen by itself. The Hotel Bar was seeing a lot of Frank. Partly because of spells of torrential rain, then again waiting for a mate and not wanting to risk getting his pants wet, because of the humidity raging outdoors, averaging 80%. Even the Hotel staff, some of them gorgeous Filipina receptionists just grow on you. And if you happen to grow on them enough as well, they will be more than happy to take you out on a rollercoaster night – that is without having to ask for it. Go with the flow and know how to handle your beverages, there will be aplenty. Start off with an ice bucket, filled with the Philippines' local treat of beers and have some nibbles in the shape of chopped pig ears at your side. The beers may be no price winners for a real connoisseur, but the likes of 'Red Horse' and their own version of the Spanish 'San Miguel' will most definitely do the job. Beware of the 'Happy' or 'Crazy' Red Horse. For every few cases of beer they will slip in the odd bottle that contains a considerably higher amount of alcohol as opposed to the standard Red Horse. Watch out for the beer label, the smiling horse is the give away.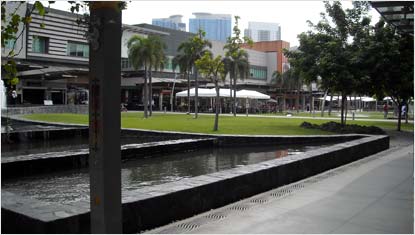 Fort Bonefacius – home to the wealthy.
You may be asking, if we have anywhere else to report on, apart from Manila. Unfortunately, currently not, but be sure that we endeavour covering off further locations in the near future. Nevertheless, even though Manila was the main area visited, a two hour drive to Tagaytay is on the list of accomplished journeys too – a calm and comfortably cooler region in the stunning countryside.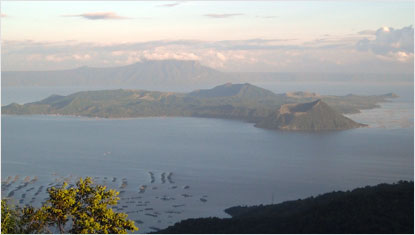 Taal Lake and Volcano view – Tagaytay.
Getting around in the Wild West…
…well, Far East: English is spoken widely, occasionally a little broken, more often with a heavy American twang, then it gets all mixed up with the local Tagalog. To sum it up, you won't be struggling getting around speaking English. Also, some branches of Philippine culture are in fact quite Americanised.
Still, getting around town can be a challenging mission. Some suburbs are a little notorious, so it's a good idea not to come across as completely clueless, lost or indeed showing off your Rolex. However, even if you happened to get lost in a dodgy part of town, you will MOST definitely find a taxi. It sounds downright obvious, but in some places that isn't the case such as in Kuala Lumpur, Malaysia, for instance. So, one definite advantage is the dirt cheap taxis, some of them almost falling apart. But who can argue with a fare of approx. 3£ / 4.80$ / 3.65€ across town? In fact, there is such an insane amount of them, it makes you wonder, if every 3rd citizen of Manila is driving one. Certain situations will make you learn the art of haggling. The more taxis there are, the more trouble you'll have flagging one down when rush hour kicks in (this can leave you on the Edsa ring road for a good few hours if you're 'lucky' enough). Why not watch the scenery? Concrete….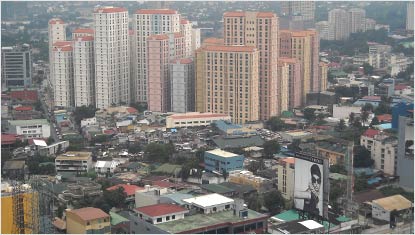 Manila high risers on the edge of Edsa ring road.
The cabbies know they can try their luck. So, everything goes – from a timer not installed or not functioning at any given moment to being charged for petrol tax. Sure, we're only talking a few Pesos, but then again it's just one of those things. Other options of downtown public transport are, as mentioned before, Buses storming down the highway or Jeepney's on distinct routes? A definite one to give a go is a tri-bike. It's fun, cheap and gives you the sensation of potential death within 5 minutes after setting off. Oh yeah, it provides you with that Manila City breeze of fresh air too.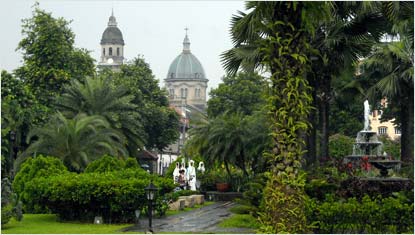 Western architecture meets South East Asia. The Manila Metropolitan Cathedral-Basilica.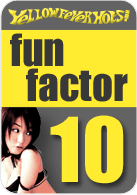 Yellow Fever fun factor: 10/10
Amazing scenery, superb people, insane parties, it doesn't burn a hole in your wallet and the girls genuinely understand the meaning of fun. Even though we can only report on Manila, we dare say the Philippines are as unexplored a country as it is a must to visit.
The major locations that were covered off during this trip are: Manila and Tagaytay.
If you have any questions, drop us a comment.
Japan Travel Journal

Back to the Extras section