Clubs in Manila
Here you find an independent list of some of the best Clubs in Manila. We don't take into consideration any opinions or listings of other sites, blogs or people on the web. These are all summaries based upon spontaneous visits our Yellow Fever riddled two-man show paid these Manila Clubs.
To get in, most Clubs charge 500 pesos on average (approx. £7 / 11$ / 9€), which is normal for that kind of establishments. However, in most cases you get one or two drinks for free, so in that sense the entrance fee pays for itself.
Top Clubs in Manila
Of the Manila Clubs visited, below is how we rank them. Unfortunately, we didn't have time for the Embassy Club at The Fort, which is said to be one of the best Clubs, along many other places across Manila, but there's always a next time.
Time on Makati Avenue
Haze at The Fort Bonifacio
Republiq at the Resorts World mall, opposite the Airport
Palladium just off Greenbelt mall, Makati
Time Club
Month and year of visit: August 2014
Entrance fee: 500 pesos (Drinks for free? We can't remember, but guess so).
Dress code: Casual, but nothing like flip flops and sleeveless shirts.
Address: 7840 Makati Avenue (across A-Venue mall), Makati, Metro Manila
Time is a fairly compact Club with two floors and a rooftop terrace. Visually, it has a darker feel to it. The ground floor is, where most of the action takes place. The second level merely is a floor – looking down at the dance area. The rooftop bar isn't anything too special, but it's still a good place to have a smoke and a drink or meet that hot Filipina you're craving. Time is host to some top DJ's, however, as with most places, aim to go during the weekend. We also went for a surprise visit on a Wednesday and the Club was all ours – literally.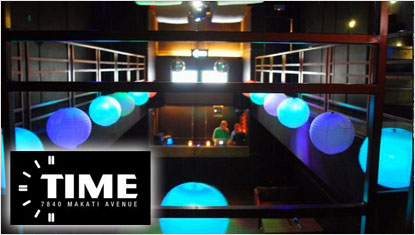 View from the 'second' floor, looking down at the dance floor.
Time summary: Even though it's not a large Club, it has a pretty good vibe. The people were great and there's plenty of opportunity to get chatting with someone. It's a mixed zone, meaning, you'll encounter Filipinos and Westerners, but the home crowd appears to be the driving force regardless.
Club Haze
Month and year of visit: August 2014
Entrance fee: 500 pesos (Free drinks? Too drunk to remember how it works, but you get an equivalent in credits in order to buy your drinks. Worked out to be something like two drinks and a water each).
Dress code: Smart casual. Just don't do the surfers' dude look.
Address: 26th St, Taguig, Kalakhang Maynila
Like the Embassy Club, Haze is located in the trendy Fort Bonifacio area in Taguig, a 10 to 15 minute drive from Makati, provided there's no traffic. It's also host to many bars that you should pay a visit in order to get your pre-clubbing alcoholic levels up to scratch. The Haze is your typical modern looking Club, boasting with laser shows. Anyway, that's how we see it. It has some VIP seating area as well as tables smack right in the middle of the dance floor. We guess they move them, when an important DJ is turning the tables. However, you still find room to throw some shapes in front of the DJ's elevated desk. As with many Clubs in Manila, the music is mixed.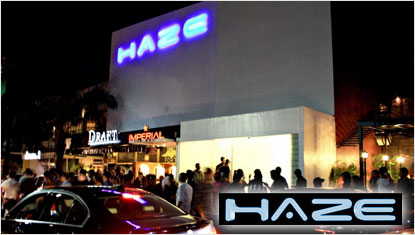 Club Haze from the outside.
Club Haze summary: It wasn't the heaviest night on earth, but still, Haze really is alright. Same as with the other establishments it comes as no surprise, that you can meet some hot Filipinas here too. Strangely, the crowd didn't pick up much in the coming hours and that was a Saturday night – may have something to do with the choice of DJ after all.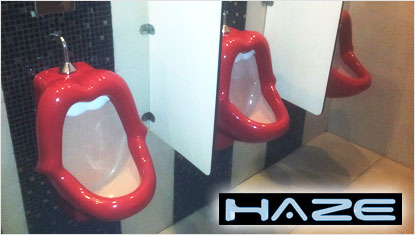 Charming piss pots at Club Haze. Sorry, no other pics from the inside.
Republiq Club
Month and year of visit: September 2014
Entrance fee: 600 pesos (Two drinks for free).
Dress code: Well, we'd say smart casual, but some people really make an effort, especially the girls.
Address: Unit 8, Second Level, Newport mall, Resorts World Manila, Newport City 1309
Republiq Club is located at Resorts World, a mall and casino resort, opposite the Ninoy Aquino Airport Terminal 3. With no traffic on the roads, you can get there within 15 to 20 minutes (from Makati). It was a Friday, when our yellowfeverhots.com team paid Republiq a visit, a Club that gets a lot of mentions. We arrived at 23:00 and of course, there wasn't much going on. The place has an elite feel, maybe a little pretentious, which is also down to the various VIP tables and areas. People really take their time before getting there. That meant, once again we were exclusively warming up the dance floor. However, since it seemed to inspire the bouncers in one way or another, it still made for some entertainment. Nevertheless, for a Club of such proportions, the dance floor merely makes for a strip, which took time to fill up. It comes as no surprise, that Republiq Club is a favourite destination among Westerners too.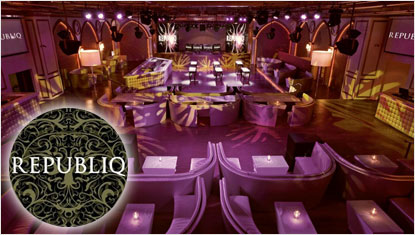 Republiq Club before the action commences.
Republiq Club summary: Even though it's classed one of the best Clubs in Manila, we feel it's a little overrated, but just right for the trendy VIP crowd sitting in their fancy booths. Nothing speaks against paying Republiq a visit now and then, but we feel, there are more original places in town. Resorts World makes for a nice post-binging-escape to the casino though, which is situated in the same mall and where we lost our last pesos.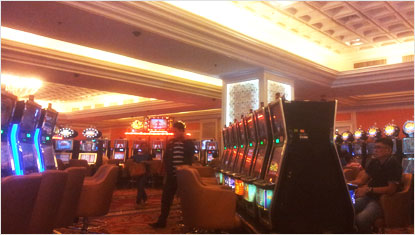 Fancy burning the rest of your cash over some slots sessions?
Palladium Club
Month and year of visit: August 2014
Entrance fee: 500 pesos (One drink for free).
Dress code: To be on the safe side, smart casual, but casual should do you just fine.
Address: Lower Ground Floor, New World Makati Hotel, Esperanza Street, corner Makati Avenue, San Lorenzo, Makati City, 1223 Metro Manila
Palladium is the place, where Greenbelt bar stuff and especially the guests from Havana go for their early hours fix. In fact, we call it the Havana rejects Club, which may be a little harsh, but this is where all the service girls go for a final pick up session. Mind, if you feel like sweating out that Asian Yellow Fever, listening to some tunes and binging it up, this is your place of choice. There are two bars and VIP as well as normal seating areas. The dance floor is of decent size and features an elevated platform – for the moments when your courage is peaking.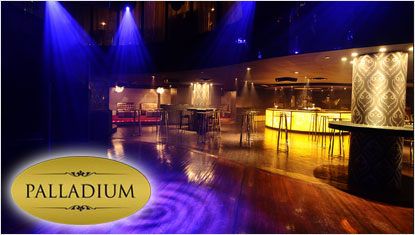 Palladium – the Havana rejects Club 😉
Palladium Club summary: The fact, that the plus five times we've seen Palladium from the inside, has more service girls bouncing about than anyone else, lowers the standard a little. Don't get us wrong, they don't spoil the atmosphere, especially, if you're looking for some action. However, if you want more opportunity to live it up with the locals, then visit places such as Time and Haze.
Note on potential 'full' and 'semi' active service girls
Any place you visit, be it Palladium or Republiq, will have at least some service girls looking for their cash cow… well, bull. In many cases, when meeting a Filipina, you just can't be 100% certain, that it's legit. Lots of them treat that little action on the side as a means to make extra dosh, while at daytime they go to work or college.
Therefore, without asking your encounter awkward questions, be sure to know what you may be getting yourself into. On one side there is stories of empty wallets in the morning, on the other you hear of that girl kindly asking for money, after she washed your dishes (while you were still in a coma). As always, depending on the girl and situation, you may get away with it free of charge – yet, she may also be doing it for cash with somebody else on another occasion. In addition, be aware that the dude, so that is YOU, pays for pretty much everything that happens beforehand.
Another note on the side: The majority of pictures on this page have been sourced on the web, because our mobiles' shitty cam couldn't keep up with the darkness and laser shows. Nevertheless, the pictures represent the actual Clubs' interiors.
One Response to Clubs in Manila