Japan Travel Journal
The girls, the nightlife and getting around
Who would argue that Japanese girls are amongst the hottest in Asia? That given you should not be expecting too much from the 'am a dude from the west' attitude. You will have to work a little to get anywhere unless you happen to be in outings such as the Roppongi strip in Tokyo.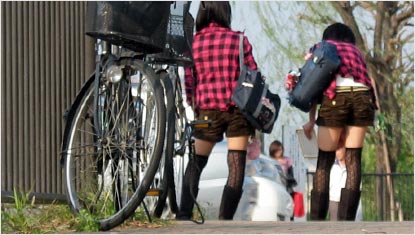 What can we say – this is art. We can get you a print made.
If it's your thing to hang out with fellow tourists and interact with girls that specifically target the area for various dubious reasons, then by all means go mental! However, paying a little attention to what kind of establishments you're getting yourself into is beneficial. Otherwise you may end up rotten broke within the hour due to the cost of booze – truly stock market fluctuation-like in some places.
Generally speaking we do recommend sticking to the locally influenced joints and clubs as the likelihood of getting together with sincere crowds over a few brews is higher. Action packed locations don't have to be off the main strips though. As an example, there are a few great locations in the Shibuya district (Tokyo) such as Club Asia. In our experience the atmosphere has been nothing other than brilliant and friendly, but language will almost certainly be an issues.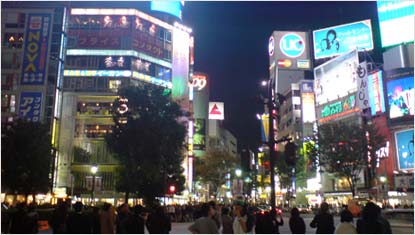 In downtown Tokyo. Just what you expected?
Unless residing in major cities like Tokyo or Osaka where with a bit of luck conversation is possible, you'll be stripping your English down to a mere few words until it becomes useless to yourself. This is what it's like in more remote areas. Picking up the odd Japanese vocabulary on the fly will be a life safer unless you are a complete linguistic disaster. So, getting some basic Japanese language skills on board is an absolute plus; not just in the pulling department, but in order to try your luck eating something other than what is advertised on pictures… or not to end up with the Police as well.
That is where my Taxi driver took me in order to get a translator on the phone. The officers at the Fukuoka Police Station weren't amused to say the least. He just couldn't figure out my attempts explaining that I needed to get back to a club and look for my obliterated buddy who had gone missing.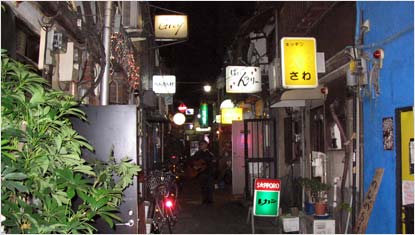 Some Bars in this area can't host more than five guests.
All in all getting around town during the day and night is very safe. No other way to say it. You can cut yourself lose and walk the streets all night until you stumble across a joint that looks interesting. A notorious alleyway could in fact hide a party just waiting for you to attend. It's a truly rewarding experience. No having to hop on public transport all the time or drive around with your doors and windows shut. Getting lost in Japanese cities discovering every corner is therefore highly recommended and encouraged!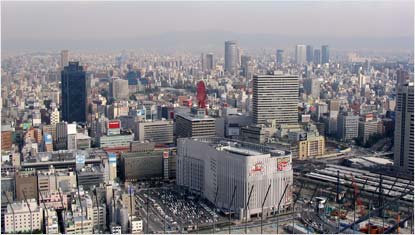 Osaka – get in there an enjoy!
However, if all alarm bells start ringing and help is required, the Japanese people will absolutely go out of their way to help. By going out of their way could literally mean leading you back to the Hotel (if they are in fact not scared off having their English put to the test and therefore avoiding confrontation, but that's rather uncommon). Don't expect too much help, if having washed down two bottles of whiskey is starting to show.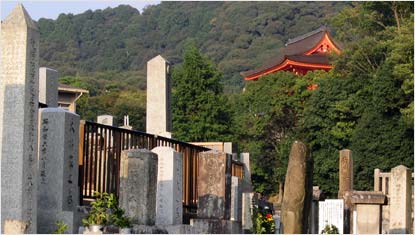 Finally some temple hey (or its roof top).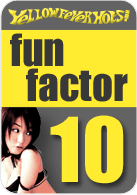 Yellow Fever fun factor: 10/10
Japan is an absolute classic. From amazing cities with a buzzing 24/7 night life to self-reflective moments that will put all sorts of thoughts in your head.
Across entire Japan you'll have to work hard keeping your eye balls set in their sockets. It is a carpet-bombardment of above-average to extremely hot girls. Constant distraction imminent.
The major locations that were covered off during this trip are: Tokyo, Osaka, Kyoto and Fukuoka.
If you have any questions, drop us a comment.
Philippines Travel Journal

Back to the Extras section